Accounting Software in Singapore that suits your needs
There are many accounting software in Singapore that you can use including that of QuickBooks, UBS, MYOB and many more. You were probably bombarded with a myriad of them when you did a Google search. Many of the options available in the market can do a decent job of organizing your company affairs.
Here's the thing. If you are searching for a solution for your business and want to 'play it safe', then by all means use the software solutions by the big boys in the western world. You save yourself from all the headache from evaluating the solutions.
However, if you are open to a solution just as effective, but will not cut a hole in your pocket and is geared to the Asia market, then you might want to find out more.

In the Ecommerce industry, Alibaba was launched in China in 1999. It is the biggest B2B platform in China today. Economists say that it is on track to becoming the world's biggest E-commerce firm and most valuable company with 1 trillion in transaction, overtaking Apple, Ebay, Amazon and other American firms. There are 280, 000 Taobao users in Singapore.
In the mobile phone industry, Xiaomi was created in China in 2011. It seeks to sell gadgets at astoundingly low prices without compromising in quality.  Last year, it became the 3rd largest smartphone maker in the world after Samsung and Apple. It has the most market share in China. When Redmi was introduced in Singapore, it sold out in 8 minutes.
Why ?
Simple.
The prices are reasonable and the specs are unbelievable.
In the Accounting Software industry, a software from China is slowly making its presence felt globally. In 2011, it was awarded "CAPITAL Outstanding ERP Solutions Provider Award" by CAPITAL Magazine. In 2013 again, it won "SMB World Awards 2013 ". SMB world is published by Computerworld HK, a leading magazine on business and technology.
Little did the rest of the world know that this solution is actually already the defacto choice of accounting software in China. IDC, an authoritative international survey organization, released its China Enterprise Application Software Market Analysis Report for the Year 2012 and ranked Kingdee as having "No.1 Market Share to SMEs" in China for the ninth straight year. According to Chinese IT user satisfaction survey, Kingdee was conferred No. 1 & the best of China  Software Industry Application Satisfaction.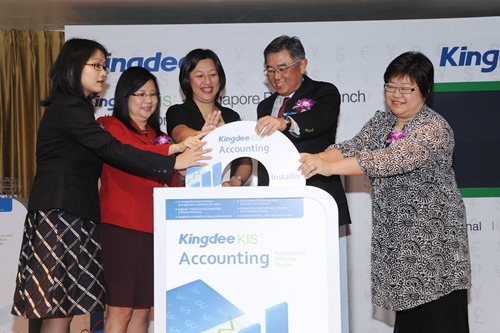 Today, it is finally available for use in Singapore.
Reach Software Sdn Bhd is the major distributor of the Kingdee software and through our effort in propagating it in Singapore,  have got it to be approved by IRAS.
Accounting Software industry will never be the same.

Why use Kingdee ?
China has complex legal and statutory requirements that transplanting 'western' systems simply cannot suffice.
Kingdee is the only software that fully prepares your company for operations in the China market.
Here are the Top 5 Benefits
1. Completely complies with local statutory accounting regulations in Singapore, Singapore, Hong Kong and China and the built-in financial reports are fully endorsed and approved by the PRC government.
2. Seamlessly integrates with international accounting, third-party ERP, CRMs and SCM systems.
3. Provides users with English and simplified & traditional Chinese language user interface and accounting in international currencies.
4. Strong support by local consultants in Singapore who understand your business needs and 800-men strong research team in Asia who continuously enhance the software to meet your needs.
5. Provides comprehensive functionalities at the Most Reasonable Price (High ROI and Low TCO)
As a forward-looking and trend-setting company in Singapore, you can ride on the success of Kingdee as it began to make an impact on the world. Technology moves like lightning. Embrace the shaker of the industry and reap the fruits of your sound decision. You will see how Kingdee can help you cut costs and increase your revenue in a most sustainable way.
Good news for SMEs. 
Kingdee software is IRAS recognized & eligible for grants to help you save costs! 
Fill in the form for a FREE trial version of KIS Software.